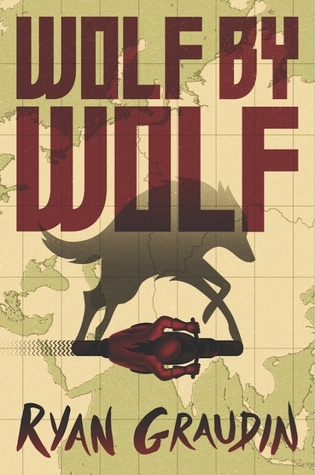 Title: Wolf by Wolf
Author: Ryan Graudin
Publisher: Little, Brown BYR
Age Group: Young Adult
Category: Historical Fiction/Fantasy
Release date: October 20th, 2015
Pages: 400 (ARC)
Rating: 5 out of 5
Source: Publisher
Goodreads
|
Amazon
|
Author
The year is 1956, and the Axis powers of the Third Reich and Imperial Japan rule the world. To commemorate their Great Victory over Britain and Russia, Hitler and Emperor Hirohito host the Axis Tour: an annual motorcycle race across their conjoined continents. The victor is awarded an audience with the highly reclusive Adolf Hitler at the Victor's ball.
Yael, who escaped from a death camp, has one goal: Win the race and kill Hitler. A survivor of painful human experimentation, Yael has the power to skinshift and must complete her mission by impersonating last year's only female victor, Adele Wolfe. This deception becomes more difficult when Felix, Adele twin's brother, and Luka, her former love interest, enter the race and watch Yael's every move. But as Yael begins to get closer to the other competitors, can she bring herself to be as ruthless as she needs to be to avoid discovery and complete her mission?
Yael knows what it's like to fight for her life. When she was only 6, she and her mother were dragged to a concentration camp, and if that wasn't bad enough, she became the Angel of Death's favorite human experiment. As he shot her with poison and chemicals to change the pigment of her skin, hair, and eyes, she discovered that she had another reaction to it. Yael can shift into looking like anyone she imagines, and that one hidden power may be the only thing to save her from the fate of so many others. Fast forward ten years, Yael is out for blood. If she can just get near Hitler, she knows that she could be the one to take him out.
Wolf by Wolf surprised me. If I was judging it by the cover alone, I know I probably would have never picked it up. Even the description made me a little hesitant, but I dove in anyway. I'm so glad that I did, because this story isn't one I'll forget. I'm absolutely loving the sudden burst of vengeance stories and badass chicks who can hold their own surrounded by nothing but guys. Yael is confident and determined throughout the entire book, even though there are a few hiccups along the way.
Pretending to be one of Germany's beloved Axis Tour champions, Adele Wolfe, Yael enters the race with her eyes on the prize- one dance with Adolf Hitler at the Victor's Ball. It wouldn't take her longer than that to slip a blade into his heart. Unfortunately, Adele's twin brother, Felix, enters the race in order to keep an eye on her. Between him and Luka, an enemy who clearly had a relationship with Adele in the past, her plans aren't as smooth as she hoped. Fortunately, Yael has spent more than half of her life training for this. If anyone could do it, it would be her.
This story jumps from past to present, showing what Yael has had to go through in order to become the person she is at 17. From the experiments to losing the most important people in her life, it truly was heartbreaking to read and imagine yourself in her place. The skinshiftinng was so unique to add to a story like this, and it made it that much more intense. Ryan Graudin did an outstanding job with Wolf by Wolf. Her writing just grabs you and won't let go until the very last page.