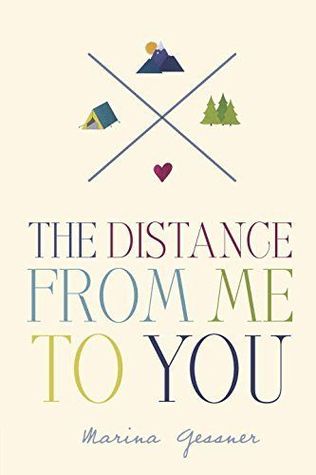 Title: The Distance from Me to You
Author: Marina Gessner
Publisher: G.P. Putnam's Sons BYR
Age Group: Young Adult
Category: Contemporary
Release date: October 20th, 2015
Pages: 352 (ARC)
Rating: 5 out of 5
Source: Publisher
Goodreads
|
Amazon
|
Author
McKenna Berney is a lucky girl. She has a loving family and has been accepted to college for the fall. But McKenna has a different goal in mind: much to the chagrin of her parents, she defers her college acceptance to hike the Appalachian Trail from Maine to Georgia with her best friend. And when her friend backs out, McKenna is determined to go through with the dangerous trip on her own. While on the Trail, she meets Sam. Having skipped out on an abusive dad and quit school, Sam has found a brief respite on the Trail, where everyone's a drifter, at least temporarily.
Despite lives headed in opposite directions, McKenna and Sam fall in love on an emotionally charged journey of dizzying highs and devastating lows. When their punch-drunk love leads them off the trail, McKenna has to persevere in a way she never thought possible to beat the odds or risk both their lives.
McKenna has spent the last few months saving up every penny for her hike through the Appalachian Trail. Nothing sounded better than spending the next few months alone with her best friend, slowly making their way across the east coast. This plan was set in stone, or so she thought, until Courtney backed out because she couldn't stand to spend time apart from her boyfriend. McKenna makes the decision to go alone without telling her parents, because she knows that they would do anything to stop her. When her journey begins, she realizes that she's in way over her head, and she's unsure if she'll even be able to survive one day on her own, let alone several months.
I chose to bring this book along on my first solo journey. Though I wasn't trekking across multiple states on foot with a backpack almost half my weight, I could relate to McKenna in a way that I don't think I would have if I'd read her story in the comfort of my own bed. I shared her excitement and her fears and I got completely wrapped up in the adventure. She's not alone the entire time, though, because not long after she began her trip, she met a boy named Sam, who keeps running into her at almost every rest stop. Sam isn't anything like her, and that's what made both characters and their relationship so interesting.
While McKenna originally began this trip with optimism, Sam is using the trail as an escape, wandering from state to state because he has no where else to go. Although these two might normally clash, the understanding they have is unique and they push each other to achieve greatness. The most important thing that I took away from this story is that you can care for and help someone without sacrificing your own goals. In many Young Adult books, romance can become a main focus, but McKenna never loses track of why she wanted to take this trip in the first place.
The Distance from Me to You quickly became a new favorite of mine. I found it difficult to put this book down, as McKenna was much stronger than I think I'd ever be. There's no way that I'd choose to spend a long period of time on my own in the wild, especially knowing all of the dangers that come along with hiking the Appalachian Trail. This was an excellent story about self discovery that I think any contemporary book lover should read!