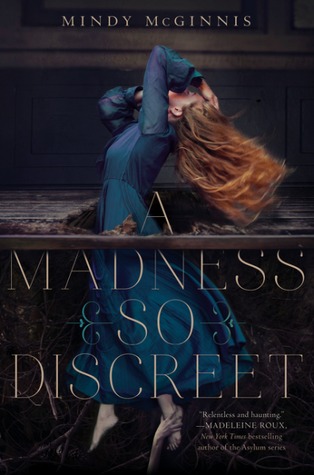 Title: A Madness So Discreet
Author: Mindy McGinnis
Publisher: Katherine Tegen Books
Age Group: Young Adult
Category: Historical Fiction/Mystery
Release date: October 6th, 2015
Pages: 384 (eGalley)
Rating: 4 out of 5
Source: Edelweiss
Goodreads
|
Amazon
|
Author
Grace Mae knows madness.
She keeps it locked away, along with her voice, trapped deep inside a brilliant mind that cannot forget horrific family secrets. Those secrets, along with the bulge in her belly, land her in a Boston insane asylum.
When her voice returns in a burst of violence, Grace is banished to the dark cellars, where her mind is discovered by a visiting doctor who dabbles in the new study of criminal psychology. With her keen eyes and sharp memory, Grace will make the perfect assistant at crime scenes. Escaping from Boston to the safety of an ethical Ohio asylum, Grace finds friendship and hope, hints of a life she should have had. But gruesome nights bring Grace and the doctor into the circle of a killer who stalks young women. Grace, continuing to operate under the cloak of madness, must hunt a murderer while she confronts the demons in her own past.
The only thing that Grace has done wrong is trust the wrong people. Coming from a very wealthy, important family, our main character has been locked away to keep certain secrets from leaking out. She chooses not to use her voice, as if it was taken from her, along with the rest of her rights when she was put in the insane asylum. When she gets herself into deep trouble, she makes connections that help save her from the life her family meant for her to live, but she does everything she can to make sure that her younger sister never suffers the same way she did.
I enjoyed so many aspects of this story, from the gothic theme to the fact that the line between sane and inside can be quite thin. Grace meets a doctor who routinely performs lobotomies on the most difficult patients, but he disagrees when she proposes that he should "fix" her. He sees that she has a brilliant mind and devises a plan to get her out of the asylum so she can become his assistant in the search for a murderer. While out of the confining walls of the hospital, away from those who abuse her, Grace becomes a whole new person. She finds her voice again and begins to take control of her life.
Grace is a strong character. She isn't like many that I've come across in my usual reads. She goes from looking forward to death to finding another escape, dealing with her monsters in her own way, and helping others, even if only by being their friend. In a way, she even helps Dr. Thornhollow in more ways than solving the mystery behind each new death. While there isn't any direct romance within the pages of this book, I definitely felt something between Grace and Thornhollow, which only added to the thrill of reading the story.
A Madness So Discreet is a dark, fast-paced read that will leave you hanging on until the very end. Historical fiction isn't my favorite genre, but I can't imagine this story taking place in any better period. Mindy McGinnis has a very unique touch when it comes to writing, and although this is my first of her books, it certainly won't be my last.