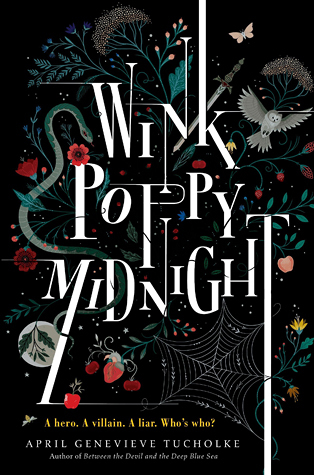 Title: Wink Poppy Midnight
Author: April Genevieve Tucholke
Publisher: Dial Books
Age Group: Young Adult
Category: Mystery/Magical Realism
Release date:
March 22nd, 2016
Pages: 247 (Paperback)
Rating: 4 out of 5
Source: Publisher
Goodreads
|
Amazon
|
Author
Every story needs a hero.
Every story needs a villain.
Every story needs a secret.
Wink is the odd, mysterious neighbor girl, wild red hair and freckles. Poppy is the blond bully and the beautiful, manipulative high school queen bee. Midnight is the sweet, uncertain boy caught between them. Wink. Poppy. Midnight. Two girls. One boy. Three voices that burst onto the page in short, sharp, bewitching chapters, and spiral swiftly and inexorably toward something terrible or tricky or tremendous.
What really happened?
Someone knows.
Someone is lying.
From the description alone, I was sucked into this story of heroes, villains, secrets and lies. Midnight is Poppy's little secret, and he's tired of chasing after something he'll never truly be able to have. Poppy is in love with Wink's older brother, who never gave a damn about her. Wink meets Midnight and all of their lives seem to flip upside down. When someone goes missing, it's up to these unusual characters to figure out the mystery they left behind.
April Genevieve Tucholke is a magnificent storyteller and knows exactly how to keep her fans on their toes. As the one consuming this mysterious tale, you never quite know who to believe, yet I found myself able to relate to all three main characters. Who could be the villain when they all seem to genuine? Wink Poppy Midnight may be on the shorter side, but it puts a lot of weight on its readers.
Although the story definitely had an interesting plot, I held onto every word because this author's writing style is almost hypnotizing. Full of whimsical charm and dark undertones, this is the perfect read for a gloomy day. Wink's entire life felt like a fairytale and she seemed to pull everyone else into it. Midnight seemed to be finding himself, and Poppy just felt lost. The characters were all unreliable and confusing, yet enthralling. This book consumed my mind over the few hours it took me to read it. and left me trying to figure out where everything began to spin out of control.