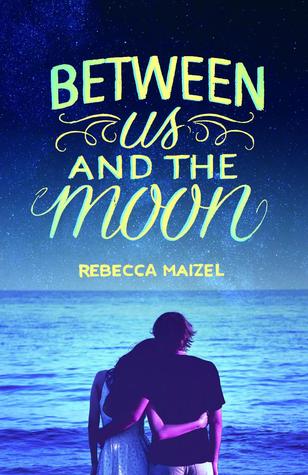 Title: Between Us and The Moon
Author: Rebecca Maizel
Publisher: HarperTeen
Age Group: Young Adult
Category: Contemporary Romance
Release date: June 30th, 2015
Pages: 384 (eGalley)
Rating: 4.5 out of 5
Source: Edelweiss
Goodreads
|
Amazon
|
Author
Ever since Sarah was born, she's lived in the shadow of her beautiful older sister, Scarlett. But this summer on Cape Cod, she's determined to finally grow up. Then she meets gorgeous college boy Andrew. He sees her as the girl she wants to be. A girl who's older than she is. A girl like Scarlett.
Before she knows what's happened, one little lie has transformed into something real. And by the end of August, she might have to choose between falling in love, and finding herself.
The start of Sarah's summer isn't ideal. In fact, she's blindsided by her boyfriend's decision to break up. Suddenly, her annual escape to Cape Cod is much more needed than she could have imagined. She's always known that she isn't like most other girls, especially her older sister Scarlett. Scarlett is the type of girl that guys want and girls dream of becoming. Sarah just studies meteors through the lens of her telescope. Over the summer, Sarah decides to take some tips from her sister just to see what happens. She never imagined falling for an older boy because of it.
Sarah had her summer all mapped out. She was going to focus on her studies, but when she meets Andrew, her plans get away from her. Although she's dressing more like her sister and giving off more confidence than she normally would, what keeps him interested in her is the fact that she's everything most girls aren't. She's nerdy, quirky and different, and it's very clear from the start that Andrew is interested in that. For the most part, Sarah doesn't lie to him, but what lie she does tell is a big one. She's tells him that she's about to start college, when in reality, she's only 16 and he's almost 20 years old.
Sometimes it's hard to read books where relationships are formed from a lie, but I actually really loved this story. Sarah was smart, but she was still immature and insecure, which is pretty realistic for someone her age. She grows a lot over the course of this story, not only in accepting herself, but by taking responsibility for her actions. Looking past her lie, the bond that forms between Sarah and Andrew is a great one. He's everything you hope for in a summer romance and the connection they had made me hold onto hope, even though I had an idea of how things would end. It's complicated and messy, but there was something there that had great potential.
Between Us and The Moon is an awesome summer read. One of my favorite things about this book is that the author doesn't shy away from making the romance as realistic as possible, including passionate scenes between the couple that will make your own skin tingle. While I don't think that this book will be for everyone, it's great for fans of wonderfully written coming-of-age stories.