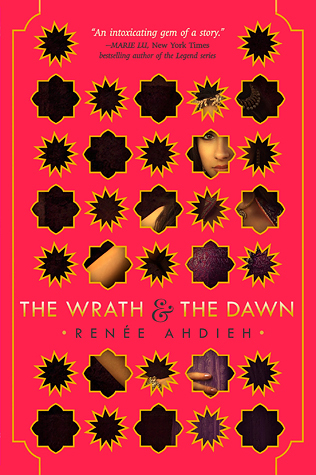 Title: The Wrath & The Dawn
Author: Renee Ahdieh
Publisher: G.P. Putnam's Sons Books for Young Readers
Age Group: Young Adult
Category: Fantasy/Retelling
Release date: May 12th, 2015
Pages: 395 (Hardcover)
Rating: 5 out of 5
Source: Bought
Goodreads
|
Amazon
|
Author
Every dawn brings horror to a different family in a land ruled by a killer. Khalid, the eighteen-year-old Caliph of Khorasan, takes a new bride each night only to have her executed at sunrise. So it is a suspicious surprise when sixteen-year-old Shahrzad volunteers to marry Khalid. But she does so with a clever plan to stay alive and exact revenge on the Caliph for the murder of her best friend and countless other girls. Shazi's wit and will, indeed, get her through to the dawn that no others have seen, but with a catch . . . she's falling in love with the very boy who killed her dearest friend.
She discovers that the murderous boy-king is not all that he seems and neither are the deaths of so many girls. Shazi is determined to uncover the reason for the murders and to break the cycle once and for all.
The Wrath & The Dawn is one of the most beautifully written books I've read in a long time. When Sharhzad's best friend is taken and murdered in cold blood, she does the only thing she can think of to get revenge. She volunteers to be the Caliph's next wife so she can be the one to put an end to the man who murdered so many other innocent women before her. If she can make it to dawn without being executed, Sharhzad will be the first woman to ever do so, thus gaining Khalid's trust. Once she has his trust, it's all over.
Quite honestly, this isn't the type of book that I would normally reach for. By just the description, I was intrigued, but not enough to dive in headfirst. One night, before I knew anything about the book, I had a dream about it. Upon waking up, I didn't look into it, because I wasn't able to catch the title or the author, only it's magnificent bright red cover. A few days later I was invited to join the author for dinner while she was in town, and I knew I had to preorder a copy. I'm so, so glad that I did, because The Wrath & The Dawn is one of my absolute favorite books now. I became so engrossed, I forgot about the world around me for the few hours it took me to finish Sharhzad's incredible story, which doesn't happen often.
Sharhzad is such a strong character, and she holds everything together so well for someone so hell-bent on getting revenge. Actually, it was hard not to feel for everyone involved, even Kahlid, the supposed monster. Each night, she tells him a story before bed, and over the time they spend together, you begin to see a different side to the Caliph that no one else has ever seen before. The romance that blooms in front of your eyes is incredibly satisfying. Some scenes were absolutely written to make you tingle.
Though I'm not familiar with A Thousand and One Nights, which this story is based off of, I found it very easy to get lost in. I fell in love with everything, from the forbidden romance to the enticing reason behind why Khalid must marry a new woman each night and have her executed by sunrise. The Wrath & The Dawn is the best book I've read this year so far, and it's an incredible start to a new series that you won't want to miss!