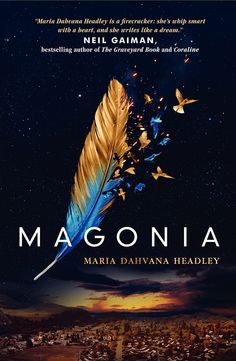 Title: Magonia
Author: Maria Dahvana Headley
Publisher: HarperCollins
Age Group: Young Adult
Category: Fantasy
Release date: April 28th, 2015
Pages: 320 (eGalley)
Rating: 3.5 out of 5
Source: Edelweiss
Goodreads
|Amazon

|

Author
Aza Ray is drowning in thin air.
Since she was a baby, Aza has suffered from a mysterious lung disease that makes it ever harder for her to breathe, to speak—to live.
So when Aza catches a glimpse of a ship in the sky, her family chalks it up to a cruel side effect of her medication. But Aza doesn't think this is a hallucination. She can hear someone on the ship calling her name.
Only her best friend, Jason, listens. Jason, who's always been there. Jason, for whom she might have more-than-friendly feelings. But before Aza can consider that thrilling idea, something goes terribly wrong. Aza is lost to our world—and found, by another. Magonia.
Above the clouds, in a land of trading ships, Aza is not the weak and dying thing she was. In Magonia, she can breathe for the first time. Better, she has immense power—and as she navigates her new life, she discovers that war is coming. Magonia and Earth are on the cusp of a reckoning. And in Aza's hands lies the fate of the whole of humanity—including the boy who loves her. Where do her loyalties lie?
Aza has struggled to breathe her entire life. For her sixteenth birthday, she gets the only thing she's ever wanted; she gets better. The only problem is that she isn't home anymore...at least not the home she's always known. She's taken by an airship that no one else seems to see, learning that these strange people are her real family, and that the reason she couldn't breathe on earth is because she was never meant to.
I was so incredibly intrigued by the sound of this story that I had to drop every other book and read it as soon as possible. The writing style is very different from what I'm normally used to, and for the first half of the book, that put me off a little. It's very odd, yet it really matches the fantasy of Magonia. The author made each character stand out and it was so easy to imagine all of the details, which is what made me push through the story, although I didn't quite connect with any of the characters the way I hoped to.
Aza isn't the most likable character, but to be fair, she goes through so much in such a little amount of time. She dies and comes back as an otherworldly creature, trying to fit in with a ragtag group of bird-people in a completely unfamiliar place. She loses her family and gains another. Her two worlds collide and she has to figure out who to stand by. There was so much happening by the end of the story, I couldn't help but get immersed in this book.
With a rather slow beginning, it's easy to see why many would stop before Aza's story really develops, but I am very happy that I continued. I loved the magic of it all, I just wished that the readers could have learned more about this new land. Magonia is still a bit of a mystery, which is a little disappointing, but I will gladly continue the series in hopes of more information.