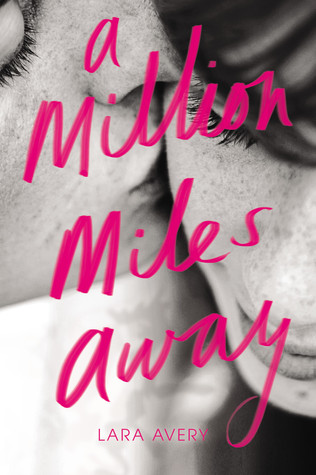 Title: A Million Miles Away
Author: Lara Avery
Publisher: Poppy
Age Group: Young Adult
Category: Contemporary Romance
Release date: July 7th, 2015
Pages: 320 (eGalley)
Rating: 4 out of 5
Source: NetGalley
Goodreads
|
Amazon
|
Author
When high school senior Kelsey's identical twin sister, Michelle, dies in a car crash, Kelsey is left without her other half. The only person who doesn't know about the tragedy is Michelle's boyfriend, Peter, recently deployed to Afghanistan. But when Kelsey finally connects with Peter online, she can't bear to tell him the truth. Active duty has taken its toll, and Peter, thinking that Kelsey is Michelle, says that seeing her is the one thing keeping him alive. Caught up in the moment, Kelsey has no choice: She lets Peter believe that she is her sister.
As Kelsey keeps up the act, she crosses the line from pretend to real. Soon, Kelsey can't deny that she's falling, hard, for the one boy she shouldn't want.
Michelle is wild and passionate. When she brings another stray home, Kelsey rolls her eyes. She doesn't even need to meet Peter to know that her sister will end up heartbroken again until she moves onto the next. Kelsey realizes that she misjudged the situation, because it becomes very clear that they care for each other deeply in a way that she's never seen before. Peter ships out to Afghanistan first thing in the morning, but Michelle never returns home after driving him to the airport.
When Kelsey receives the news that her twin sister has passed away, one of the first things on her mind is Peter. He needed to know, but she had no way to contact him. She didn't know where his base was, and she didn't even know his last name. Her parents dealt with their grief in a completely different way, so although Kelsey still had them and her friends, she began to feel completely alone. That is, until one night, Peter contacted her.
I liked Kelsey. I could relate to her when it comes to losing a loved one, but I can't imagine how painful it had to be to even look at herself in the mirror and be reminded of what she's lost. It's very easy to understand why she would do what she did and lead Peter to believe that she was Michelle. She didn't want to let her sister go, either. Soon, he became the only person that she could truly connect with. He admits that she's what's giving him strength, and she decides that the best time to tell him would be when he's no longer in danger. Unfortunately, the entire situation spins out of control very quickly and Kelsey begins to lose her footing.
A Million Miles Away is about the struggle of losing a loved one and losing yourself. The grief that the family went though and relationship between Kelsey and Peter were both very realistic. Although there's so much deception within these pages, you can't help but root for them, because it's clear that she's not lying to be malicious. This is a quick, yet wonderful, read that will leave you with many emotions.