It's no secret that Rainbow Rowell is one of my favorite authors. I first fell in love with Eleanor & Park, then I got wrapped up in her second young adult novel, Fangirl. This is where readers are introduced to Simon Snow, a fictional character within another fictional book. He's almost like Harry Potter to Rowell's main character, Cath. In Carry On, we get to dive deeper into Simon Snow's world and see why Cath became so obsessed.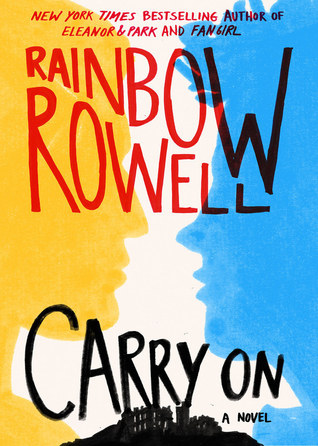 Rainbow Rowell continues to break boundaries with Carry On, an epic fantasy following the triumphs and heartaches of Simon and Baz from her beloved bestseller Fangirl.
Simon Snow just wants to relax and savor his last year at the Watford School of Magicks, but no one will let him. His girlfriend broke up with him, his best friend is a pest, and his mentor keeps trying to hide him away in the mountains where maybe he'll be safe. Simon can't even enjoy the fact that his roommate and longtime nemesis is missing, because he can't stop worrying about the evil git. Plus there are ghosts. And vampires. And actual evil things trying to shut Simon down. When you're the most powerful magician the world has ever known, you never get to relax and savor anything.
Carry On is a ghost story, a love story, a mystery and a melodrama. It has just as much kissing and talking as you'd expect from a Rainbow Rowell story — but far, far more monsters.

ABOUT THE AUTHOR
RAINBOW ROWELL writes books. Sometimes she writes about adults (Attachments and Landline). Sometimes she writes about teenagers (Eleanor & Park, Fangirl and Carry On). But she always writes about people who talk a lot. And people who feel like they're screwing up. And people who fall in love. When she's not writing, Rainbow is reading comic books, planning Disney World trips and arguing about things that don't really matter in the big scheme of things. She lives in Nebraska with her husband and two sons.
I'm so excited for this release that I'm giving away a copy of the book. This giveaway is open internationally! Good luck, everyone!


a Rafflecopter giveaway