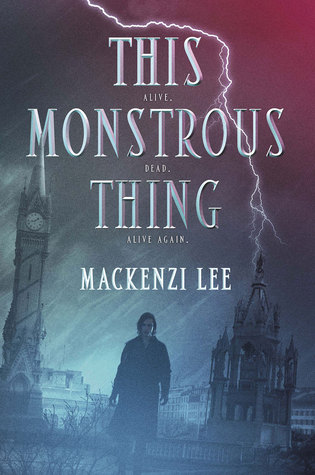 Title: This Monstrous Thing
Author: Mackenzi Lee
Publisher: Katherine Tegen Books
Age Group: Young Adult
Category: Retelling/Steampunk
Release date: September 22nd, 2015
Pages: 384 (eGalley)
Rating: 4 out of 5
Source: Edelweiss
Goodreads
|
Amazon
|
Author
In 1818 Geneva, men built with clockwork parts live hidden away from society, cared for only by illegal mechanics called Shadow Boys. Two years ago, Shadow Boy Alasdair Finch's life shattered to bits.
His brother, Oliver—dead.
His sweetheart, Mary—gone.
His chance to break free of Geneva—lost.
Heart-broken and desperate, Alasdair does the unthinkable: He brings Oliver back from the dead. But putting back together a broken life is more difficult than mending bones and adding clockwork pieces. Oliver returns more monster than man, and Alasdair's horror further damages the already troubled relationship.
Then comes the publication of Frankenstein and the city intensifies its search for Shadow Boys, aiming to discover the real life doctor and his monster. Alasdair finds refuge with his idol, the brilliant Dr. Geisler, who may offer him a way to escape the dangerous present and his guilt-ridden past, but at a horrible price only Oliver can pay…
Alasdair Finch is something special. He's done what no one has ever been able to accomplish. Out of grief, he makes the decision to bring his older brother back from the dead using his knowledge from being a Shadow Boy, one of the few who illegally create mechanical parts for those missing limbs. Because his brother needed more clockwork pieces than most living normally require, Alasdair fears that he's changed him too much and that Oliver may never be the same. He does what he can to protect Oliver from being attacked by those who don't understand, but keeping him locked up doesn't seem to be helping him as much as Alasdair thought it would.
Since this is a retelling of the classic, Frankenstein, I found This Monstrous Thing to be an interesting novel. When Alasdair gets a book in the mail from a woman named Mary Shelley, his first love, he's horrified to find that this work of fiction is based on his brother's resurrection. The author is anonymous, but it's clear that someone else knows of his secret, unless Oliver is writing it to get back at him for being locked up all this time. Suddenly, his life is thrown into a whirlwind when his parents are arrested for their secret side business, but Alasdair manages to get away and find protection with Dr. Geisler, a scientist he's always looked up to.
The tension is heavy between characters, and there's a very real prejudice against those with clockwork parts. Clemence, Dr. Geisler's assistant and Alasdair's confidant, is my favorite character by far. Mary Shelley, the actual author of Frankenstein, is a character in this as well, which got me a little excited, although she wasn't the greatest or most loyal person to have around. Since most readers will already know the mystery behind who actually wrote the book, the time the author spent on building it up fell a little short.
This Monstrous Thing is dark and mysterious, filled with gritty scenes and beautiful writing. This was one awesome retelling! I loved the Victorian setting and steampunk elements included. Ultimately, I think that's what made this story so unique. Lies, betrayal, and deceit will keep readers hanging on, but the overall sense of hope and forgiveness will make the story worthwhile.