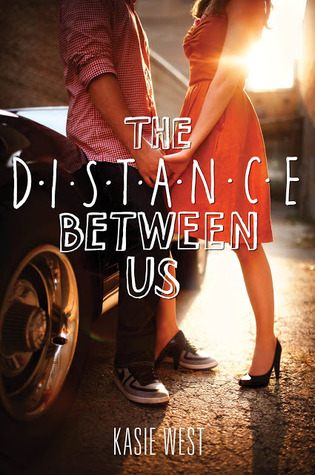 Title: The Distance Between Us
Author: Kasie West
Publisher: HarperTeen
Age Group: Young Adult
Category: Contemporary Romance
Release date: July 2nd, 2013
Pages: 312 (Paperback)
Rating: 4 out of 5
Source: Bought
Goodreads
|
Amazon
|
Author
Seventeen-year-old Caymen Meyers studies the rich like her own personal science experiment, and after years of observation she's pretty sure they're only good for one thing—spending money on useless stuff, like the porcelain dolls in her mother's shop.
So when Xander Spence walks into the store to pick up a doll for his grandmother, it only takes one glance for Caymen to figure out he's oozing rich. Despite his charming ways and that he's one of the first people who actually gets her, she's smart enough to know his interest won't last. Because if there's one thing she's learned from her mother's warnings, it's that the rich have a short attention span. But Xander keeps coming around, despite her best efforts to scare him off. And much to her dismay, she's beginning to enjoy his company.
She knows her mom can't find out—she wouldn't approve. She'd much rather Caymen hang out with the local rocker who hasn't been raised by money. But just when Xander's attention and loyalty are about to convince Caymen that being rich isn't a character flaw, she finds out that money is a much bigger part of their relationship than she'd ever realized. And that Xander's not the only one she should've been worried about.
Caymen's entire life is surrounded by the doll shop that her mother owns. It's where she lives, works, and plans to stay once she graduates high school. All of her friends are going off to college, but she knows that's not an option-- not with the money they earn from the shop. It's not even enough to pay the bills. Her single mother is doing everything she can to keep them afloat while trying to give Caymen freedom in the teenage years she'll never get back.
When Xander walks right through the shop door and into Caymen's life, she can tell his type from the moment their eyes meet. He's one of the guys her mother has always warned her about. He comes from one of the wealthiest families around, and she doesn't doubt that she's practically invisible to him, but she couldn't be further from the truth. Xander keeps showing up and to Caymen's dismay, she's actually enjoying the time they spend together, both getting to know parts of themselves that they've never shared with anyone else.
I loved Caymen. She was snarky and intelligent, longing for her own independence. Xander was trapped within his family's wealth, and he longed to be his own person. They both find comfort in each other, taking turns to plan weekly activities, losing themselves in worlds that are so different from their own. The romance was cute, and I really enjoyed watching the two characters grow closer while trying to keep their realities separate.
The thing I loved most about The Distance Between Us was the pacing. Nothing was rushed, but the story was so interesting that I found it hard to put down at times. Kasie West's writing style is perfect for contemporary romance. The way she creates such relatable characters just pulls you into their world with little effort and keeps you hanging on until you reach the very end.