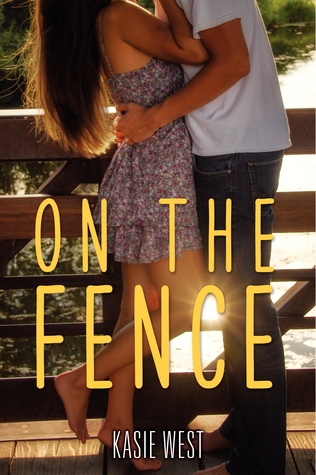 Title: On the Fence
Author: Kasie West
Publisher: HarperTeen
Age Group: Young Adult
Category: Contemporary Romance
Release date: July 1st, 2014
Pages: 296 (eGalley)
Rating: 5 out of 5
Source: Edelweiss
Goodreads
|
Amazon
|
Author
For sixteen-year-old Charlotte Reynolds, aka Charlie, being raised by a single dad and three older brothers has its perks. She can outrun, outscore, and outwit every boy she knows—including her longtime neighbor and honorary fourth brother, Braden. But when it comes to being a girl, Charlie doesn't know the first thing about anything. So when she starts working at chichi boutique to pay off a speeding ticket, she finds herself in a strange new world of makeup, lacy skirts, and BeDazzlers. Even stranger, she's spending time with a boy who has never seen her tear it up in a pickup game.
To cope with the stress of faking her way through this new reality, Charlie seeks late-night refuge in her backyard, talking out her problems with Braden by the fence that separates them. But their Fence Chats can't solve Charlie's biggest problem: she's falling for Braden. Hard. She knows what it means to go for the win, but if spilling her secret means losing him for good, the stakes just got too high.
Charlie has spent her entire life surrounded by men. She's strong and athletic, always competing to be the best and keeping her emotions locked deep inside her. When she's forced to find a job for the summer in order to pay off a speeding ticket and learn responsibility, the only place hiring is a boutique where she sticks out like a sore thumb. The owner agrees to help her pick out clothes, convinces her to model for makeup demonstrations and shows her a whole new world. For the first time in her entire life, Charlie makes female friends and boys start to notice her as something other than "one of the guys".
Trying to keep her work and home lives separate, Charlie realizes that being two different people is taking a toll on her. She gets tired of lying to her dad and her boss, especially because she doesn't even know why the lies have slipped out in the first place. One late night, she goes to the backyard to find Braden, her next door neighbor, just on the other side of the fence. They talk more than they have in years, and although they never acknowledge their conversations in the light of day, they return to the same spot many nights after that. The fence becomes their secret, their place to escape.
I just have to say, I'm a sucker for boy-next-door love stories. I love when the love interest is a part of the main character's every day life and you get to watch the romance blossom. Braden is definitely the type of boy that I would develop a crush on, myself. He had great chemistry with Charlie from the start, although she always thought of him as her fourth brother until the first night at the fence. He's very passionate about showing her that she doesn't need too change herself for anyone, especially a guy.
On the Fence has to be my favorite book by this author so far. There were even some returning characters from Kasie West's other contemporary novel, The Distance Between Us, which is always fun to see. The romance was sweet, there's a lot of personal growth, and it was a great story about family and unconditional love.