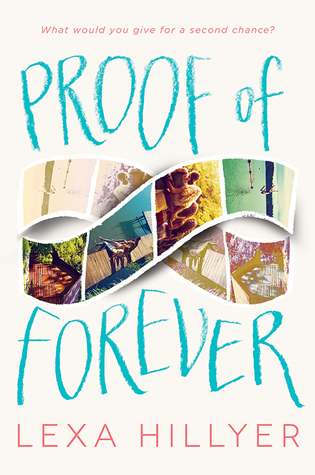 Title: Proof of Forever
Author: Lexa Hillyer
Publisher: HarperCollins
Age Group: Young Adult
Category: Contemporary
Release date: June 2nd, 2015
Pages: 352 (eGalley)
Rating: 4 out of 5
Source: Edelweiss
Goodreads
|
Amazon
|
Author
BEFORE: It was the perfect summer of first kisses, skinny-dipping, and bonfires by the lake. Joy, Tali, Luce, and Zoe knew their final summer at Camp Okahatchee would come to an end, but they swore they'd stay friends.
AFTER: Now, two years later, their bond has faded along with those memories.
THEN: That is, until the fateful flash of a photo booth camera transports the four of them back in time, to the summer they were fifteen—the summer everything changed. NOW: The girls must recreate the past in order to return to the present. As they live through their second-chance summer, the mystery behind their lost friendship unravels, and a dark secret threatens to tear the girls apart all over again.
ALWAYS: Summers end. But this one will change them forever.
Although these four best friends have gone separate ways since camp ended, one mysterious photo booth will transport them back to relive the summer they'll never forget. Proof of Forever starts with an introduction of Zoe, Tali, Luce and Joy, showing that they're all completely different people. When they were 15-years-old, they were inseparable, but by now, no one could really remember what tore them apart. Was it Joy, who fell off the face of the earth when camp came to an end, Tali who left her friends behind to become popular, or something else entirely?
These four girls try to recreate their last summer together in order to return to present day, but what happens when they do even the slightest thing in a different way? Proof of Forever is a great summer contemporary mixed with a little time travel. That aspect mixed things up and made this a refreshing read. I loved learning the differences between each girl and seeing how they fit together like mismatched puzzle pieces. They all had their issues, both personal and with each other, but this second-chance summer may bring them closer than ever before.
I'm very satisfied with the character development. Each of them are going through so much internally, and the more they try to keep it a secret, the bigger mess they tend to make. Zoe and Joy may have been my favorites of the bunch, but there were also pretty well-written secondary characters involved, as well, such as Tali and Joy's love interests. When the girls realize that following that summer exactly as they did in the past is impossible, they learn to let go and enjoy the time they have together, even if it means having to live the past two years over again. As far as they know, it may be their last summer as best friends.
Filled with hope for a new future and a bittersweet ending, Proof of Forever is a cute read that's perfect for the upcoming summer months. The story itself can be a little predictable at times, but I still loved taking this journey with the girls as they discover more about themselves and each other.