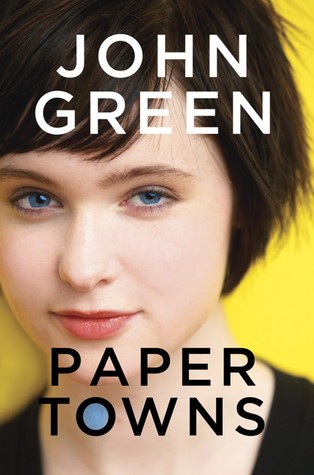 Title: Paper Towns
Author: John Green
Publisher: Dutton Juvenile
Age Group: Young Adult
Category: Contemporary
Release date: October 16th, 2008
Pages: 305 (Hardcover)
Rating: 4 out of 5
Source: Bought
Goodreads
|
Amazon
|
Author
Quentin Jacobsen has spent a lifetime loving the magnificently adventurous Margo Roth Spiegelman from afar. So when she cracks open a window and climbs back into his life - dressed like a ninja and summoning him for an ingenious campaign of revenge - he follows.
After their all-nighter ends and a new day breaks, Q arrives at school to discover that Margo, always an enigma, has now become a mystery. But Q soon learns that there are clues - and they're for him. Urged down a disconnected path, the closer Q gets, the less Q sees the girl he thought he knew.
Margo Roth Spiegelman is a mystery. No one really knew her, and that's the way she liked it. Paper Towns follows a teenage boy named Quentin- simply known as Q- who is just trying his best to get by. When they were kids, Margo and Q were close because their families were. Somewhere along the years, they grew apart, but Quentin's hopeless crush never faltered. When Margo requests his help one unexpected night, he takes the offer with a little persuading. He finds out what it would be like if they stayed friends, and for the first time in years, he gets a deeper look into the mind of the girl he thought he once knew.
Margo is your typical manic pixie dream girl. There's something intriguing about her, the way she acts, how she thinks and speaks. When she disappears from her home, no one thinks twice. It's not out of the ordinary for her to run away for days at a time and make her own adventures. Quentin gets a taste of this that night she asks for his help, and the clues she leaves him makes him think that her disappearance is much more than just another adventure. I'm still not sure what to think about Margo. She was a selfish character, but I also felt sorry for her. Quentin proves to be loyal, because when everyone else wants to give up, he keeps going, certain that she wants to be found.
John Green is a master at telling bittersweet love stories. His characters are so realistic, you can't help but feel for them. Although Margo is only around in the beginning of the story, she's the one who brings everyone together throughout the book. The mystery behind her disappearance allows Q and his friends to look deeper inside themselves and their relationships with each other.
I enjoyed Paper Towns a lot, but out of the three books that I've read by John Green, it falls short. It's still a great book, just not the best I've read so far. The author does a great job of wrapping up his stories in ways that you don't always see in YA fiction. Nothing is perfect, and nothing happens the way you expect it to. This book is full of humor and wit, but it's also enlightening and heartfelt. If you enjoyed Looking for Alaska, this is a definite must-have.