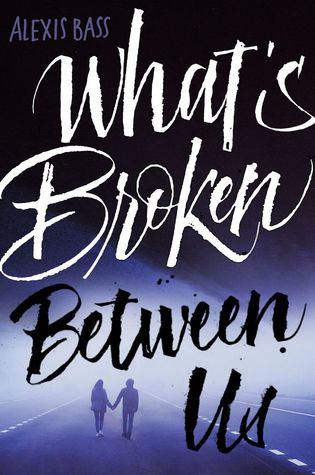 Title: What's Broken Between Us
Author: Alexis Bass
Publisher: HarperCollins
Age Group: Young Adult
Category: Contemporary
Release date: December 29th, 2015
Pages: 241 (Hardcover)
Rating: 4 out of 5
Source: Edelweiss
Goodreads
|
Amazon
|
Author
A year and a half ago, Amanda Tart's brother got behind the wheel drunk and killed his best friend. Today, he's coming home from prison.
Amanda's been the one living with the fallout, made worse by her brother's recent unapologetic TV interview. People think he's a monster. Still, she loves him. It's her dark secret, until she starts getting close to Henry again--whose sister is paralyzed from the accident.
A year and a half ago, her brother destroyed his life. Now Amanda has to decide if she'll let his choice destroy hers.
Amanda is used to being "the good one". She dresses herself up and always knows how to smile with sympathy. She has to overcompensate for the mistake her brother made that killed one classmate and nearly paralyzed another. If she doesn't put on this act, Amanda fears that the whole town will look at her the same way they look at Jonathan. Once he comes home from prison, an old flame finds his way back to her with the intention to warn Jonathan away from his sister, but one spark reignites everything they lost 16 months ago.
What's Broken Between Us is a very dark, realistic contemporary showcasing what could happen to anyone if they make one bad decision. The Tart family is clearly trying to hold themselves together in the aftermath of Jonathan's drunk driving accident. Although they're not the ones grieving over the death of a son and brother, that doesn't mean they didn't lose him. He's wracked with guilt once he returns home and he's not the same charismatic person he used to be. He lost his best friend, his girlfriend, and his entire life. His parents turn a blind eye to his self-destructive behavior, but Amanda makes it clear that she's not going to stand for it.
The book is full of ups and downs. Although Amanda wants to make all the right decisions, she's far from perfect. She makes some unforgivable mistakes, but then, many people do. I think that these characters all came from a very deep and honest place, which makes this story all the better. As readers, we get to see where they started and the steps they'll take to get back to that place.
This author did a great job creating a gripping story with such a thought-provoking message. Forgiveness is one of the most difficult things to give- especially to yourself- but necessary to live a happy life.