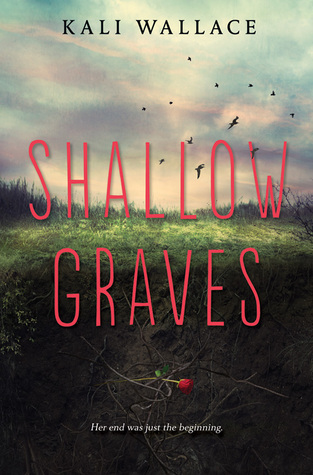 Title: Shallow Graves
Author: Kali Wallace
Publisher: Katherine Tegen Books
Age Group: Young Adult
Category: Paranormal/Horror
Release date: January 26th, 2016
Pages: 368 (ARC)
Rating: 3.5 out of 5
Source: Publisher
Goodreads
|
Amazon
|
Author
When seventeen-year-old Breezy Lin wakes up in a shallow grave one year after her death, she doesn't remember who killed her or why. All she knows is that she's somehow conscious—and not only that, she's able to sense who around her is hiding a murderous past. In life, Breezy was always drawn to the elegance of the universe and the mystery of the stars. Now she must set out to find answers and discover what is to become of her in the gritty, dangerous world to which she now belongs—where killers hide in plain sight and a sinister cult is hunting for strange creatures like her. What she finds is at once empowering, redemptive, and dangerous.
Breezy wakes up in confusion, remembering only a few things from her death one year prior. She knows that she can't go home, so she runs. So much has changed for her now that she's dead, but one of those things is that she now has the ability to see people for who they really are. This helps her at first, but soon she falls into the wrong crowd, trusting the only person she shouldn't. Breezy finds that she's not the only one of her kind and that there's an entire world hidden from most humans.
Fast-paced and bone-chilling, Shallow Graves will keep many readers invested in learning more about its main character's afterlife. As Breezy begins her journey to figure out who she is now that she's lost it all, she takes you on a ride that you won't forget. From serial killers to kind strangers, cult-leaders and ghouls, there seems to be one of everything. Though Breezy no longer needs to breathe, eat, or sleep, it's surprisingly easy to be able to relate to her and her emotions. She may be just another teenage girl, but she's a powerful voice for young readers. She's self-aware, ambitious, and quite intelligent, which are qualities that I love to see in any female character.
The writing is by-far my favorite part of this story. Beautiful prose will always make me hold on until the very last sentence. Many of the descriptions alone gave me goosebumps. Personally, I loved the beginning and the end, but the middle lost me for a while. It may have just been me, though, and I would definitely love to give this one a reread in the future.