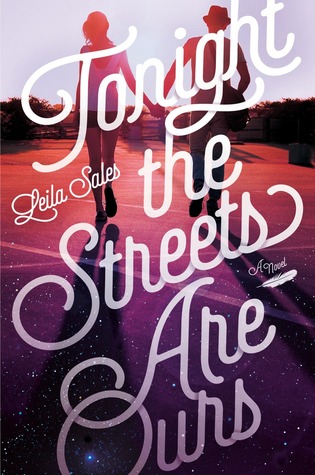 Title: Tonight the Streets Are Ours
Author: Leila Sales
Publisher: Farrar, Straus & Giroux
Age Group: Young Adult
Category: Contemporary
Release date: September 15th, 2015
Pages: 342 (ARC)
Rating: 4 out of 5
Source: Publisher
Goodreads
|
Amazon
|
Author
Seventeen-year-old Arden Huntley is recklessly loyal. Taking care of her loved ones is what gives Arden purpose in her life and makes her feel like she matters. But she's tired of being loyal to people who don't appreciate her—including her needy best friend and her absent mom.
Arden finds comfort in a blog she stumbles upon called "Tonight the Streets Are Ours," the musings of a young New York City writer named Peter. When Peter is dumped by the girlfriend he blogs about, Arden decides to take a road trip to see him.
During one crazy night out in NYC filled with parties, dancing, and music—the type of night when anything can happen, and nearly everything does—Arden discovers that Peter isn't exactly who she thought he was. And maybe she isn't exactly who she thought she was, either.
Arden is the kind of friend that everyone wishes they had. She constantly sacrifices her own happiness for the happiness of others, but when it starts to catch up with her, she decides that enough is enough. Feeling alone and unloved, she takes to the internet to find someone who understands her. Eventually, she comes across a blog written by a teenage boy whose voice could very well be hers. Everything he writes about seems familiar, and the story of his life draws her in so she can escape her own for a little while.
I liked Arden a lot. I could see so much of myself in her, because I've always been the loyal, caring friend. She's dealing with a lot, especially when her mom leaves one afternoon and never returns home. Arden is the one who has to hold everything together, because without her mom, everyone is a little lost. Once she finds Peter's blog, she begins to feel close to him, although he's merely a stranger writing about his life. She needs to get away and once Peter blogs about being broken up with, she decides to take an impromptu trip to New York City. They both need a friend, why not each other?
This is where the story gets a little hard to swallow. Arden knows nothing about Peter except for the parts of his life he writes about, which is mostly the fact that he works in a bookstore and he was absolutely head over heels for his ex girlfriend. With a little digging and the help of her best friend, Lindsey, they find which bookstore he works for. Surprisingly, Peter doesn't seem uncomfortable once they approach him. He's actually elated to meet a reader, so the three of them spend the night getting to know each other. What Arden didn't take into consideration is that there's more than one side to every story, and Peter was only leaving in the parts that make him look good.
Despite the completely creepy stalker parts of this story and the fact that Arden could have put herself and Lindsey in a dangerous situation by running away to meet someone she knows virtually nothing about, I enjoyed the story. Although it doesn't seem like it at first, the focus of this story was so much more than the possible connection between Arden and Peter. In fact, Arden chooses to find love within herself, her friends and her family over a boy she barely knows.