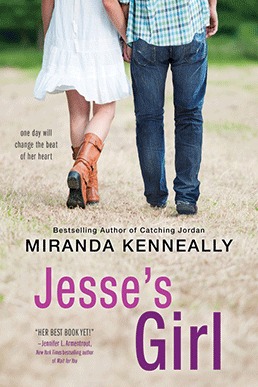 Title: Jesse's Girl
Author: Miranda Kenneally
Publisher: Sourcebooks Fire
Age Group: Young Adult
Category: Contemporary Romance
Release date: July 7th, 2015
Pages: 304 (eGalley)
Rating: 4 out of 5
Source: Netgalley
Goodreads
|
Amazon
|
Author
Everyone at Hundred Oaks High knows that career mentoring day is a joke. So when Maya Henry said she wanted to be a rock star, she never imagined she'd get to shadow *the* Jesse Scott, Nashville's teen idol.
But spending the day with Jesse is far from a dream come true. He's as gorgeous as his music, but seeing all that he's accomplished is just a reminder of everything Maya's lost: her trust, her boyfriend, their band, and any chance to play the music she craves. Not to mention that Jesse's pushy and opinionated. He made it on his own, and he thinks Maya's playing back up to other people's dreams. Does she have what it takes to follow her heart—and go solo?
Maya has always loved music. It isn't just a career choice for her, it's who she is. When the principal of her school introduces her to his nephew, a popular country music star known as Jesse Scott, her preteen dreams come true. Shadowing him would have been an exciting experience, if only he wasn't a jerk in real life. Over the span of the time they spend together, Maya learns a lot more about Jesse than she intended to and he helps her find what's been missing from her life.
Like every other Miranda Kenneally book I've read so far, I enjoyed every second of this. Watching a relationship develop is my favorite part of any contemporary romance, but I especially loved seeing everything unfold between Jesse and Maya. Jesse keeps to himself, but Maya sees that he really needs someone that he can trust. While she offers him friendship, he helps her realize her full potential. They both learn to trust and believe in each other, which only strengthens their bond.
The day they share isn't the typical planned shadow day. When left to their own devices, they pull a Ferris Bueller and ditch the rules. The paparazzi has a field day trying to keep up with the two teenagers as they run around town unaccompanied by security, much to Jesse's manager's dismay. Though the day is filled with excitement, every time Jesse is recognized, Maya realizes that she may never live this life once her time with Jesse is over.
Jesse's Girl is a charming read. Although it starts with Maya questioning her talent and future, being kicked out of the band she created, and losing trust in those who were closest to her, the most unexpected person is the one who makes everything better. Jesse helps Maya find her confidence. He gives her singing lessons and pushes her to try going solo. Both characters grew exponentially throughout the story, and it was both because of their trust in each other.