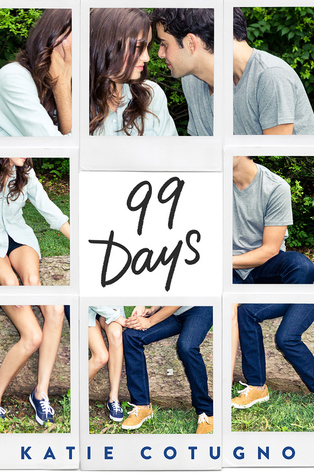 Title: 99 Days
Author: Katie Cotugno
Publisher: Balzer + Bray
Age Group: Young Adult
Category: Contemporary Romance
Release date: April 21st, 2015
Pages: 384 (eGalley)
Rating: 4 out of 5
Source: Edelweiss
Goodreads
|
Amazon
|
Author
Day 1: Julia Donnelly eggs my house my first night back in Star Lake, and that's how I know everyone still remembers everything—how I destroyed my relationship with Patrick the night everything happened with his brother, Gabe. How I wrecked their whole family. Now I'm serving out my summer like a jail sentence: Just ninety-nine days till I can leave for college, and be done.
Day 4: A nasty note on my windshield makes it clear Julia isn't finished. I'm expecting a fight when someone taps me on the shoulder, but it's just Gabe, home from college and actually happy to see me. "For what it's worth, Molly Barlow," he says, "I'm really glad you're back."
Day 12: Gabe got me to come to this party, and I'm actually having fun. I think he's about to kiss me—and that's when I see Patrick. My Patrick, who's supposed to be clear across the country. My Patrick, who's never going to forgive me.
99 Days begins with a welcome home in the shape of a splattered egg. It's not a secret that our main character, Molly, is one of the most disliked people in her small town. She did something regrettable, and instead of facing her problems head-on, she ran away from them. Now, thanks to her mother's book, all of her secrets have been released. Although it's a work of fiction, it's very obvious to anyone who knows Molly that the lying, cheating main character is based off of her and the family she destroyed.
There are plenty of people who will hate this book. There are plenty who will love it. I loved it, despite all of the sneaking around, the betrayal, the cliche love triangle, and the fact that Molly seems to have more flaws than good qualities. Aside from all of the things people might hate about this book, I must say that the story is pretty honest and realistic. I could see myself knowing someone like Molly in real life. She doesn't get everything she wants, but she learns a lot about herself in the process.
What Molly's mother did by turning Molly's biggest mistake into a bestseller was so completely wrong, I couldn't help but feel sorry for her. I can't imagine coming back home to face everyone's judgement after spending her senior year at a boarding school, but Molly handled it the best she could. The romance in this book was tricky, but you get so involved. On one hand, there's Gabe, who is almost as hated as she is. He understands her, he doesn't judge her. It was just as much his decision to cheat on his brother as it was hers. On the other hand, there's Patrick, her first love. They say that first loves never truly go away, and as the story goes on, we see how true that is.
Katie Cotugno's writing style is so easy to read and she knows how to keep readers hooked. Not everyone makes the best choices, but what matters is how you learn from them. While everything and everyone Molly knew has changed, over this last summer before college, she gets a reminder of what once was.