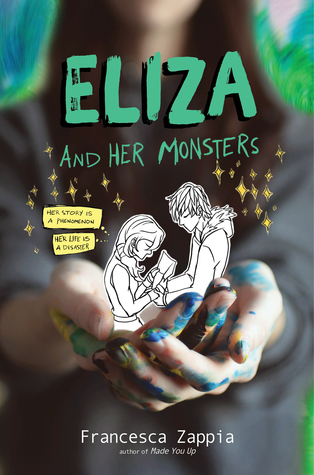 Title: Eliza and Her Monsters
Author: Francesca Zappia
Publisher: Greenwillow Books
Age Group: Young Adult
Category: Contemporary
Release date: May 30th, 2017
Pages: 385 (eARC)
Rating: 3 out of 5
Source: Edelweiss
Goodreads
|
Amazon
|
Author
In the real world, Eliza Mirk is shy, weird, and friendless.
Online, she's LadyConstellation, the anonymous creator of the wildly popular webcomic Monstrous Sea. Eliza can't imagine enjoying the real world as much as she loves the online one, and she has no desire to try.
Then Wallace Warland, Monstrous Sea's biggest fanfiction writer, transfers to her school. Wallace thinks Eliza is just another fan, and as he draws her out of her shell, she begins to wonder if a life offline might be worthwhile.
But when Eliza's secret is accidentally shared with the world, everything she's built—her story, her relationship with Wallace, and even her sanity—begins to fall apart.
The first thing that appealed to me about Eliza and Her Monsters was that just by the description of the book, I could see a lot of myself in Eliza. In high school, I was always the quiet kid who kept to herself. I sat in the back of my classes with a pen in my hand-- not taking notes, but writing about another world to escape into. Like Eliza, I became obsessed with one of my stories, and I worked hard on it for years, posting it online anonymously. While I gained some loyal readers who knew nothing about the real me, it wasn't nearly the fanbase that Eliza created for herself with Monstrous Sea.
When Eliza starts to fall for real-life Monstrous Sea fan, Wallace, she chooses to keep her real identity a secret. As a reader, you know that this can only end one way, but it was fun to read about their relationship nonetheless. Before him, Eliza never had anyone other than her family and two long-distance online friends to spend her time with. Spending time with him and his group of friends helps her experience so many new things. One thing that had me on the fence about Wallace and Eliza was that most of their conversations take place over text or in notes, even if they're sitting face to face. Somehow, that made their connection feel too impersonal to me.
By the time I got to the end of the book, I felt that I was just reading to get it over with. There were many predictable, and some unbelievable parts that I couldn't shake once I read them. I would say, though, that the story is nicely paced and well written, portraying relatable characters and an interesting plot. I used to feel so alone in my writing and interests, but by reading about characters that I can see so much of myself in, I now see that was never true. I would have loved a book like this if it had come out 10 years ago, and I hope that teenagers read this today and see parts of themselves in Eliza or Wallace, too.