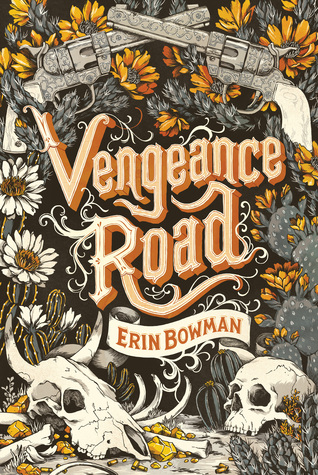 Title: Vengeance Road
Author: Erin Bowman
Publisher: HMH Books for Young Readers
Age Group: Young Adult
Category: Historical Fiction
Release date: September 1st, 2015
Pages: 336 (eGalley)
Rating: 5 out of 5
Source: Netgalley
Goodreads
|
Amazon
|
Author
When Kate Thompson's father is killed by the notorious Rose Riders for a mysterious journal that reveals the secret location of a gold mine, the eighteen-year-old disguises herself as a boy and takes to the gritty plains looking for answers and justice. What she finds are devious strangers, dust storms, and a pair of brothers who refuse to quit riding in her shadow. But as Kate gets closer to the secrets about her family, she gets closer to the truth about herself and must decide if there's room for love in a heart so full of hate.
When Kate is faced with tragedy, she doesn't retreat into herself or take time to grieve. She barely has time to wonder "why?" before she makes the decision to go after the men who were responsible for the death of her father. One day he's there, alive and well, and the next he's strung up from the tree her mother is buried beneath, leaving her an orphan for no good reason. With the help of directions her father left for her in case of emergencies, she decides to disguise herself as a man by the name of "Nate" and sets out to seek revenge.
Vengeance Road is far from the type of books I'm usually drawn to, but out of nowhere, I got the urge to read it. I can't even explain how happy I am that I did. This book is filled with so many incredible images and brutal one liners. The violence is completely gripping and unlike any YA book I've read so far. What I loved most about this story is how badass and fearless the main character was. Going after a gang of outlaws on your own couldn't possibly result in anything good, yet Kate was determined and nothing but death would stop her.
The action is heart-pounding and Kate's two unwanted sidekicks grow on you quickly. These two boys try to keep her level-headed and their actions probably save her from getting them killed more than once. There's even a little romance to keep me satisfied, and the best part is that it doesn't take anything away from the story and Kate's mission. Thanks to all of the people Kate interacts with along the way- both good and bad- she's able to find out the truth about her family after years and years of buried secrets.
This story isn't for the faint of heart. Although it's filled with blood and gore, shootouts, hangings and torture, there's also an overall sense of hope and pride. Vengeance Road is so different from any other book I've read lately, and I would recommend it to anyone looking for a unique story filled with excitement and emotion that will keep you on the edge of your seat.