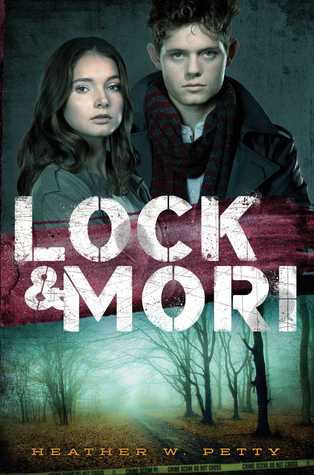 Title: Lock & Mori
Author: Heather W. Petty
Publisher: Simon & Schuster
Age Group: Young Adult
Category: Mystery/Retelling
Release date: September 15th, 2015
Pages: 256 (eGalley)
Rating: 4 out of 5
Source: Edelweiss
Goodreads
|
Amazon
|
Author
In modern-day London, two brilliant high school students, one Sherlock Holmes and a Miss James "Mori" Moriarty, meet. A murder will bring them together. The truth very well might drive them apart.
Before they were mortal enemies, they were much more.
FACT: Someone has been murdered in London's Regent's Park. The police have no leads.
FACT: Miss James "Mori"Moriarty and Sherlock "Lock" Holmes should be hitting the books on a school night. Instead, they are out crashing a crime scene.
FACT: Lock has challenged Mori to solve the case before he does. Challenge accepted.
FACT: Despite agreeing to Lock's one rule--they must share every clue with each other--Mori is keeping secrets.
OBSERVATION: Sometimes you can't trust the people closest to you with matters of the heart. And after this case, Mori may never trust Lock again.
Death tends to bring people together, but Mori never expected to team up with a boy named Sherlock Holmes in order to solve the mystery behind the recent murders at a nearby park. Each of them have an eye for the details that would be overlooked otherwise, so Lock convinces Mori that there's no better team to solve the case. With each clue, Mori learns more about herself and the family she was born into. Wanting to protect her younger brothers, she keeps her theories under wraps and tries to unmask the murderer on her own, all while falling for the one person she promised not to keep secrets from.
While everyone is familiar with the name Sherlock Holmes, this story isn't about him. He's the sidekick to James Moriarty, Sherlock's known nemesis. In Lock & Mori, Mori is a teenage girl, which makes things a lot more interesting, especially when the two become more than partners in the investigation. The romance isn't the main focus of the story, but it is a nice bonus. It makes you wonder where exactly things went wrong in the relationship.
Readers get to peek into Mori's life and see that every day is a struggle. Since her mother passed away, her dad has turned into a completely different person. He's abusive and withdrawn, only coming home to open a new bottle of booze. She's suffered more than the loss of one parent, yet she knew that she had to step up in order to try to give her siblings a better life. Overall, she's a good person, but it's not hard to see how all of those struggles could change someone for the worse.
Lock & Mori is such a great contemporary retelling filled with mystery and intrigue. Fans will surely appreciate the references to Sherlock Holmes, though you don't have to be familiar with his story to enjoy Mori's. This is one story I will definitely be continuing, just to see where the author takes us next.