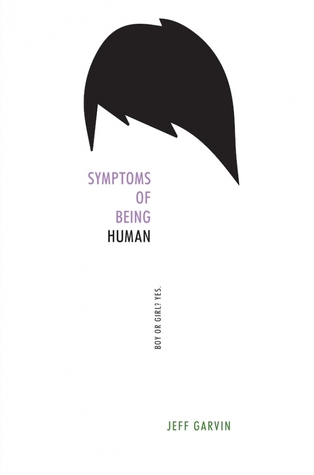 Title: Symptoms of Being Human
Author: Jeff Garvin
Publisher: Balzer + Bray
Age Group: Young Adult
Category: Contemporary/LGBT
Release date:
February 2nd, 2016
Pages: 352 (ARC)
Rating: 4.5 out of 5
Source: Publisher
Goodreads
|
Amazon
|
Author
The first thing you're going to want to know about me is: Am I a boy, or am I a girl?
Riley Cavanaugh is many things: Punk rock. Snarky. Rebellious. And gender fluid. Some days Riley identifies as a boy, and others as a girl. The thing is . . . Riley isn't exactly out yet. And between starting a new school and having a congressman father running for reelection in uber-conservative Orange County, the pressure—media and otherwise—is building up in Riley's so-called "normal" life.
On the advice of a therapist, Riley starts an anonymous blog to vent those pent-up feelings and tell the truth of what it's REALLY like to be a gender-fluid teenager.
But just as Riley's starting to settle in at school—even developing feelings for a mysterious outcast—the blog goes viral, and an unnamed commenter discovers Riley's real identity, threatening exposure. Riley must make a choice: walk away from what the blog has created—a lifeline, new friends, a cause to believe in—or stand up, come out, and risk everything.
Symptoms of Being Human is the first book I've come across with a gender fluid main character, so I knew that it was one I needed to pick up. While the LGBT community is becoming stronger and gaining privileges and support they've never had before, many people still don't know the term "gender fluid". I've mentioned this book to several friends as I read it, and the main question was "what does that mean?". Many people now understand the differences between gay and straight, or transgender and cisgender, but what about when you identify as both male and female, depending on the day? Riley will bring readers into the day-to-day life a gender fluid teen to show the struggle of finding your true identity.
Riley changes schools in hopes that public school will be more understanding, but it's still intimidating being "the new kid", especially when everyone looks at you with the question "boy or girl?" in their eyes. After a break-down that lead to the discovery of what it meant to be gender-fluid, Riley is encouraged to start a blog in order to interact with other teenagers looking for help. Surprisingly, the blog gains thousands of followers and Riley's anonymous persona- Alix- becomes internet-famous.
The author did a great job in making this story about the person that Riley is, not what gender they were born as. Some may not get that while reading and could miss the message presented here. I know that I tried to figure it out at first, myself. As people, we tend to put things- even other people- into categories without realizing. Riley does this several times throughout the story, finding out how easy it is to judge before you really get to know someone for who they are. That being said, the relationships in this story were exactly as I hoped they'd be. Bec and Solo are the first to accept Riley at school, and they make it clear from the start that they're willing to be there when no one else is. Riley's parent's are very loving and accepting as well, although they may not understand everything that Riley is going through.
Symptoms of Being Human is very honest and informative. I think that it will be a great book for many teens to read in order to open up their minds to those around them. While it's about self discovery and acceptance, it's also about the impact- both positive and negative-that others have on us. Riley is one of the most important characters I've read about in a while, and I know that I'll want to keep sharing this story with others for years to come.