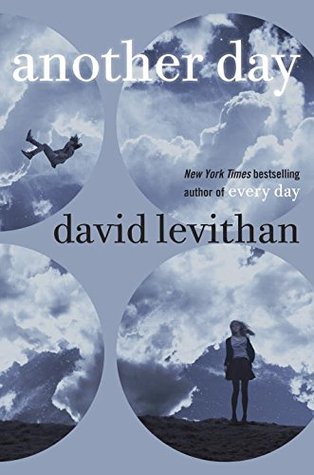 Title: Another Day
Author: David Levithan
Publisher: Knopf Books for Young Readers
Age Group: Young Adult
Category: Fantasy/Romance
Release date: August 25th, 2015
Pages: 300 (eGalley)
Rating: 5 out of 5
Source: Netgalley
Goodreads
|
Amazon
|
Author
Every day is the same for Rhiannon. She has accepted her life, convinced herself that she deserves her distant, temperamental boyfriend, Justin, even established guidelines by which to live: Don't be too needy. Avoid upsetting him. Never get your hopes up.
Until the morning everything changes. Justin seems to see her, to want to be with her for the first time, and they share a perfect day—a perfect day Justin doesn't remember the next morning. Confused, depressed, and desperate for another day as great as that one, Rhiannon starts questioning everything. Then, one day, a stranger tells her that the Justin she spent that day with, the one who made her feel like a real person . . . wasn't Justin at all.
Three years ago, David Levithan's book, Every Day, completely blew my mind. The idea of someone living their entire life as a new person each day really took a hold of me and wouldn't let go. This year, readers are gifted with a phenomenal companion to that novel, and as nervous as I was that Another Day would be too repetitive, I am pleased to say that I love this book just as much as the first. Another Day is told from the perspective of Rhiannon, a character who doesn't seem to realize that she needs change. "A" is just the person to show her how different life can be.
Being able to get a deeper look into Rhiannon's life was a lot more interesting than expected. In Every Day, we only saw her through A's rose-colored glasses, but because this is her story, we see how flawed she actually is. It's clear that she struggles with being able to stand up for herself, especially when it comes to her jerk of a boyfriend, Justin. One day, Justin seems like a completely different person. They share an afternoon together that she'll never forget, but what she doesn't realize is that the person controlling his body isn't her boyfriend.
Since I've read many books between the time I read Every Day and Another Day, it was nice being able to remember certain scenes. They were almost as if I was reading them for the first time, although I was already familiar with the characters and their stories. Rhiannon struggled to accept A, which is very believable. I can't even imagine being in her situation. She's being pulled back and forth between someone who is undeniably in love with her and someone who isn't always there the way she needs them to be.
David Levithan has impressed me yet again, and Another Day has become a new addition to my favorites shelf, right next to its companion. Not unlike our main character, I was skeptical for the first half of the book, but by the end, I was completely in love. I can't say that I've read the same exact story told by different perspectives before, and I honestly don't think I would have enjoyed it as much if it were written by anyone else. It is implied that the story is far from over, and although I'm left with the same bittersweet feelings I had upon finishing Every Day, I certainly wouldn't mind reading more.